26th January 2021: Business documents requiring the confirmation of a Chamber of Commerce and the legalization of an authority
Foreign authorities and other entities may require that the document must be confirmed by a local Chamber of Commerce as part of the legalization process.
From 15 February 2021, the new procedure will be followed for business documents requiring the confirmation of a Chamber of Commerce and the legalization of an authority. Please see more information here.
23rd December 2020: Certificates of Origin to Turkey
The Turkish Ministry of Trade has made an amendment to the Customs regulation act, according to which, as of 1 January 2021, goods entering to the country from EU member states with A.TR movement certificate would no longer be required to have a separate certificate of origin issued by the Chamber of Commerce. However, this does not apply to products subject to trade policy measures.
It is good to note that there may be delays in the practical application of Customs regulation act. This requires communication before export: if necessary, a reference to the amendment published in the Official Gazette on 10.12.2020 can be sent to the Turkish importer.
30th September 2020 Features update: User account in several companies
User can have account under several companies with the same username (=e-mail address) as user or main user.
A new user is added by the main user (if main user is needed to add, please contact Chamber of Commerce)
There is a notification "User already exists. Do you want to attach this account as an user under this company"? Please choose 'attach user'.
User receives an e-mail that confirms "The company X has been attached to your account in the vientiasiakirjat.fi service, meaning that now you can make requests on that company's behalf. You can change the company from the dropdown on top of the screen.
User is signing in to the service with the same username and password as before
As logged in, user can change the company from the dropdown on top of the screen.
When company is chosen, there are documents of that company presented

7th September 2020: Certificates of Origin to Turkey
Please note that Turkish Customs do not accept the expression of "EUROPEAN UNION" anymore in the Box 3: Country of Origin on the Certificate of Origin. If you have goods from several EU member states, you must indicate all the countries in question with EUROPEAN UNION + name of the country.
NOTE: The Ministry of Trade sent its official letter to all Turkish regional customs offices on 2nd of October which stated that it is acceptable to use European Union, unless there are non-tariff commercial policy measures or additional financial obligation for exported goods from EU. Unfortunately, there is currently no list of products that fall under that category, so it is still recommended to specify all the EU countries in the Certificate of Origin if possible.
26th of June 2020 Features update: Secure link
Please notice that there is a new delivery method available for Certificate of Origin: secure link. With this feature, for example daughter company or bank can preview the final Certificate of Origin or print it to an official form.
In the service, please choose a suitable delivery method:
I will print it myself + Additional service: Document is shared in secure way to a third party for preview OR
A third party prints. Document is shared in secure way for printing.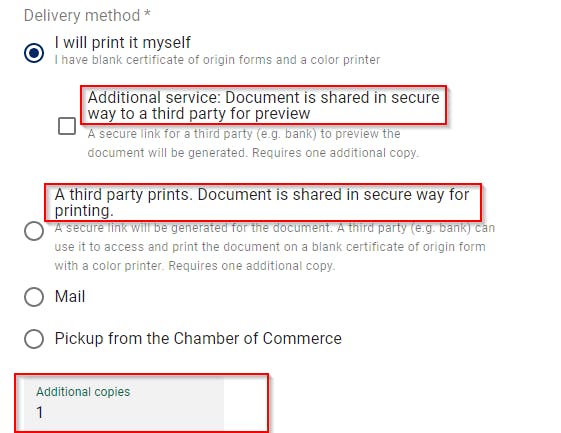 These delivery methods cost the normal price of Certificate of Origin, plus price of additional copy.
After approval, there will be link and validation code (needed to access shared document) available. It is important to send link and validation code to a third party separately in secure way. This third party do not have access to the service, only to the document shared.
Please notice that the Applicant must provide the needed forms for printing to a third party.
20th May 2020 Features update: An excel file of applied documents
Please notice that an excel file of applied documents can be now downloaded from the service. The report can be found on the main page DOCUMENTS after signing in, download excel file. The start and end dates for the report can be fixed.

7th of May 2020 Features update: QR-code
Please notice that starting from 7th of May 2020 QR-code will be printed on the Certificate of Origin. With this code Certificate of Origin's authenticity can be verified directly from the ICC World Chambers Federation's verification web page. With this tool Customs Authorities and other third parties can verify the authenticity of Certificates of Origin online. Please notice that each Certificate will become available for verification on the next day of its issuance.