26th of June 2020 Features update
Please notice that there is a new delivery method available for Certificate of Origin: secure link. With this feature, for example daughter company or bank can preview the final Certificate of Origin or print it to an official form.
In the service, please choose a suitable delivery method:
I will print it myself + Additional service: Document is shared in secure way to a third party for preview OR
A third party prints. Document is shared in secure way for printing.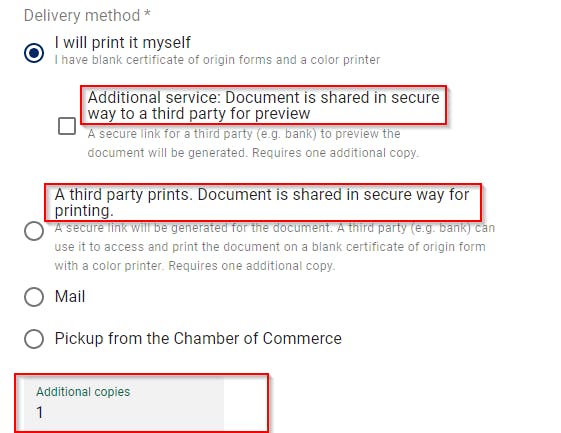 These delivery methods cost the normal price of Certificate of Origin, plus price of additional copy.
After approval, there will be link and validation code (needed to access shared document) available. It is important to send link and validation code to a third party separately in secure way. This third party do not have access to the service, only to the document shared.
Please notice that the Applicant must provide the needed forms for printing to a third party.
20th May 2020 Features update
Please notice that an excel file of applied documents can be now downloaded from the service. The report can be found on the main page DOCUMENTS after signing in, download excel file. The start and end dates for the report can be fixed.

7th of May 2020 Features update
Please notice that starting from 7th of May 2020 QR-code will be printed on the Certificate of Origin. With this code Certificate of Origin's authenticity can be verified directly from the ICC World Chambers Federation's verification web page. With this tool Customs Authorities and other third parties can verify the authenticity of Certificates of Origin online. Please notice that each Certificate will become available for verification on the next day of its issuance.